Description
Custom Chicken Shaped Pillows truly are something special! They are hand-made, with artisan craftsmanship, and highest quality materials and inks. The best part is, it's all made by YOU. 
By just uploading your favorite image, you are in control of what pillow you get. After your initial upload, you leave the work to us to create a memorable pillow not just for you, but loved ones as well.
FEATURES:
Machine Washable
100% Soft Velvet Polyester Cover
Printed On Front and Back
Usually Ships In 5-7 Business Days

Made In The USA
Customer Reviews
Write a Review
Ask a Question
My 5 year old daughter, Ava, has a pet chicken "Candy Corn" that she has raised from a chick and she loves her! We have 24 chickens, but Candy Corn is her favorite! Ava always wants to bring Candy Corn with us places, which of course we can't so the this pillow was the next best thing! It's so cute and Ava could not believe she could finally snuggle with Candy Corn and take her on car rides! Thank you for such a great experience!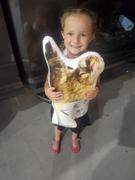 Payment & Security
Your payment information is processed securely. We do not store credit card details nor have access to your credit card information.
Indoor vs. Outdoor Fabric
Indoor Fabric: Made out of 100% soft velvet polyester. Machine washable. Image printed on both sides. ($0 extra)

Outdoor Fabric: Made out of 100% polyester. Machine washable. Image printed on both sides. Water resistant and stain resistant. ($5 extra)
*All orders come standard with the indoor fabric option.
×